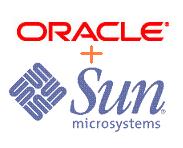 The final words are out. Sun Microsystems have accepted the $7.4 billion offer by Oracle corporation. Oracle Corporation's CEO Larry Ellison announced today the official word and so does the SUN's website saying. Oracle agreed to pay about $7.4 billion, including cash and debt. The per-share price is $9.50, or about 42% higher than Sun's closing price on Friday, April 17.
The takeover moves Oracle, the world's second-largest software maker, into the market for server and storage computers, pitting the company against IBM and Hewlett-Packard. Oracle chief executive Larry Ellison also gains Sun's Java programming language and Solaris operating system, which work with its top-selling database program.
What interest me more is the future of MySQL, the open source database which Oracle bought with Sun. Sun Microsystem just acquired MySQL for $1 billion last year. As MySQL grows in popularity, it keeps disrupting Oracle's high-end database business from below. Now Oracle can at least try to disrupt itself, or kill MYSQL. I think Oracle is smart enough to know the value of Open Source database and will keep it running as it is. Let us hope that millions of websites running on MySQL will keep on running as is without any hassles.
Although I am happy that Oracle rather than IBM is going to acquire Sun Microsystems. But somewhere I don't feel good as SUN Microsystems was near to my heart. I have to change the saying "Sun Java, Fun Java" now :(