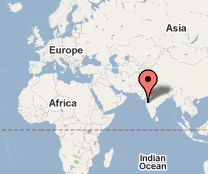 Google Map API
has been a great way to show geographical information on web. A lot of
mashup tools like this
, have been created around
Google Maps
to show a wide variety of data. In my previous article about
Introduction to Google Maps API
, I had described basic APIs to integrate Google Map in your webpage. In this small article we will discuss a great feature of Google Maps API that can be used to locate any City/Country/Place on Map. This is called
Geocoding
. Google Maps API provides a wonderful API called Geocoding API that enables you to fetch any location and pin point it on Google Map.
GClientGeocoder
is the class that we use to get the geocoder that get us the location. We will use
getLatLng()
method to get latitude/longitude of any location. Check the following code.
var

 place =  

"New York"

;
geocoder = 

new

 GClientGeocoder();
geocoder.getLatLng(place, 

function

(

point

) {
	

if

 (!point) {
		alert(place + 

" not found"

);
	} 

else

 {
		

var

 info = 

"<h3>"

+place+

"</h3>Latitude: "

+point.y+

"  Longitude:"

+point.x;
		

var

 marker = 

new

 GMarker(point);
		map.addOverlay(marker);
		marker.openInfoWindowHtml(info);
	}
});


Code language:

 

JavaScript

 

(

javascript

)
In above code snippet we passed string "New York" and a handler function to getLatLng() method of GClientGeocoder. GClientGeocoder class will call google server for the location and when it gets the result, it pass the result to the handler function that we specified. Thus handler function will get point (GPoint) object from which we can get the latitude and longitude of location. In above code we have created a marker and placed it on the map.
Online Demo
Google Map Reverse Geocode Example