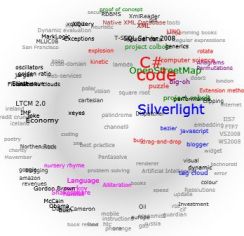 Tagging the content has increased the searchability of content in todays Web 2.0 world. Also similar content can be grouped together by assigning them same tags. Tag Cloud has became a good way of displaying the weighted tags in a manner easy to understand and search. You can find a lot of code written in all possible scripts to generate tag clouds. You may interested in
Generating tag cloud with PHP and MySQL
. While roaming around on
internet
, I found this really cool jQuery plugin
jsTagCloud
that generates 3D tag cloud!! The result is quite impressive and you can actually move the tag cloud using mouse pointer. It uses the canvas element to render a 3d cloud that can be rotated with the mouse. Following is the demo and code that I used to generate 3D tag cloud using jsTagCloud plugin.
Online Demo
Click here if you cannot view the demo.
Code to Generate 3D Tag Cloud
<!DOCTYPE html PUBLIC 

"-//W3C//DTD HTML 4.01 Transitional//EN"

 

"http://www.w3.org/TR/html4/loose.dtd"

>
<

html

>
<

head

>
<

meta

 

http-equiv

=

"Content-Type"

 

content

=

"text/html; charset=UTF-8"

>
<

title

>jsTagCloud: 3D Tag Cloud using jsTagCloud jQuery plugin</

title

>

<

script

 

src

=

"//www.google.com/jsapi"

></

script

>
<

script

>
	google.load(

"jquery"

, 

"1"

);
	google.setOnLoadCallback(

function

()

 {
			jQuery(

"#cloud"

).tagcloud({
					

'baseurl'

 : 

'https://www.viralpatel.net/tag/'

,
					

'background'

 : [

255

,

255

,

255

],
					

'textcolor'

 : [

0

,

0

,

128

],
					

'interval'

 : 

50

,
					

'data'

 : [
						{

'url'

:

'AJAX'

, 

'tag'

:

'AJAX'

},
						{

'url'

:

'browsers'

, 

'tag'

:

'browsers'

},
						{

'url'

:

'chrome'

, 

'tag'

:

'chrome'

},
						{

'url'

:

'Compression'

, 

'tag'

:

'Compression'

},
						{

'url'

:

'CSS'

, 

'tag'

:

'CSS'

},
						{

'url'

:

'exception'

, 

'tag'

:

'exception'

},
						{

'url'

:

'file-upload'

, 

'tag'

:

'file-upload'

},
						{

'url'

:

'firebug'

, 

'tag'

:

'firebug'

},
						{

'url'

:

'firefox'

, 

'tag'

:

'firefox'

},
						{

'url'

:

'gmail'

, 

'tag'

:

'gmail'

},
						{

'url'

:

'google'

, 

'tag'

:

'google'

},
						{

'url'

:

'internet'

, 

'tag'

:

'internet'

},
						{

'url'

:

'J2EE'

, 

'tag'

:

'J2EE'

},
						{

'url'

:

'jar'

, 

'tag'

:

'jar'

},
						{

'url'

:

'Java'

, 

'tag'

:

'Java'

},
						{

'url'

:

'JavaScript'

, 

'tag'

:

'JavaScript'

},
						{

'url'

:

'framework'

, 

'tag'

:

'framework'

},
						{

'url'

:

'java'

, 

'tag'

:

'java'

},
						{

'url'

:

'javascript'

, 

'tag'

:

'javascript'

},
						{

'url'

:

'jboss'

, 

'tag'

:

'jboss'

},
						{

'url'

:

'linux'

, 

'tag'

:

'linux'

},
						{

'url'

:

'JQuery'

, 

'tag'

:

'JQuery'

},
						{

'url'

:

'maven'

, 

'tag'

:

'maven'

},
						{

'url'

:

'pdf'

, 

'tag'

:

'pdf'

},
						{

'url'

:

'performance'

, 

'tag'

:

'performance'

},
						{

'url'

:

'rss'

, 

'tag'

:

'rss'

},
						{

'url'

:

'php'

, 

'tag'

:

'php'

},
						{

'url'

:

'servlet'

, 

'tag'

:

'servlet'

},
						{

'url'

:

'struts'

, 

'tag'

:

'struts'

},
						{

'url'

:

'stanford'

, 

'tag'

:

'stanford'

},
						{

'url'

:

'tomcat'

, 

'tag'

:

'tomcat'

},
						{

'url'

:

'twitter'

, 

'tag'

:

'twitter'

},
						{

'url'

:

'Web2.0'

, 

'tag'

:

'Web2.0'

},
						{

'url'

:

'ubuntu'

, 

'tag'

:

'ubuntu'

},
						{

'url'

:

'wordpress'

, 

'tag'

:

'wordpress'

},
						{

'url'

:

'windows'

, 

'tag'

:

'windows'

}
								]
				});
	});
</

script

>
<

script

 

src

=

"jquery.tagcloud.js"

></

script

>

</

head

>
<

body

>

	<

canvas

 

id

=

"cloud"

 

width

=

'256'

 

height

=

'256'

>
  		Sorry! - Browser does not support Graphics Canvas
	</

canvas

>

	<

br

/>
	<

a

 

href

=

"http://slackers.se/2009/jstagcloud-js-canvas-3d-tag-cloud"

>Back to viralpatel.net</

a

>
</

body

>
</

html

>


Code language:

 

JavaScript

 

(

javascript

)
Feel free to copy the code and extend it for your use. Note that the demo will work only in browsers that supports Canvas element of HTML.