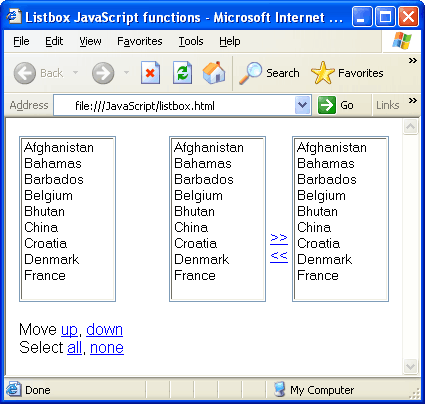 While working with Listboxes I had to write few small JavaScript snippets to perform certain tasks like selecting all options / seselecting all options or moving options up and down or swapping the options between two listboxes. I thought of sharing the JavaScript functions with you so that you can bookmark the article and use the code whenever you need them.
Listbox Select All / Deselect All JavaScript
Following is the JavaScript function for implementing select all, deselect all options in listbox.
function

 

listbox_selectall

(

listID, isSelect

) {
		

var

 listbox = 

document

.getElementById(listID);
		

for

(

var

 count=

0

; count < listbox.options.length; count++) {
			listbox.options[count].selected = isSelect;
	}
}


Code language:

 

JavaScript

 

(

javascript

)
The above javascript code is very straight forward. All you have to do it to pass the ID of listbox you need to perform select all/deselect all and a boolean value for select/deselect. For example if a listbox has an id "countryList" following can be the function call.
listbox_selectall(

'countryList'

, 

true

); 

//select all the options


listbox_selectall(

'countryList'

, 

false

); 

//deselect all the options




Code language:

 

JavaScript

 

(

javascript

)
Listbox Move up/down options JavaScript
Following is the javascript function that you can use to add move up/down options functionality. User can select any option and move it up in the list or down.
function

 

listbox_move

(

listID, direction

) {

	

var

 listbox = 

document

.getElementById(listID);
	

var

 selIndex = listbox.selectedIndex;

	

if

(

-1

 == selIndex) {
		alert(

"Please select an option to move."

);
		

return

;
	}

	

var

 increment = 

-1

;
	

if

(direction == 

'up'

)
		increment = 

-1

;
	

else


		increment = 

1

;

	

if

((selIndex + increment) < 

0

 ||
		(selIndex + increment) > (listbox.options.length

-1

)) {
		

return

;
	}

	

var

 selValue = listbox.options[selIndex].value;
	

var

 selText = listbox.options[selIndex].text;
	listbox.options[selIndex].value = listbox.options[selIndex + increment].value
	listbox.options[selIndex].text = listbox.options[selIndex + increment].text

	listbox.options[selIndex + increment].value = selValue;
	listbox.options[selIndex + increment].text = selText;

	listbox.selectedIndex = selIndex + increment;
}


Code language:

 

JavaScript

 

(

javascript

)
Thus, you can call this function with first argument as list id and second argument a string value 'up' or 'down' depending on where you want to move the selected option.
listbox_move(

'countryList'

, 

'up'

); 

//move up the selected option


listbox_move(

'countryList'

, 

'down'

); 

//move down the selected option




Code language:

 

JavaScript

 

(

javascript

)
Listbox swap/move left-right options JavaScript
Following is the javascript code for moving selected options from one listbox to another.
function

 

listbox_moveacross

(

sourceID, destID

) {
	

var

 src = 

document

.getElementById(sourceID);
	

var

 dest = 

document

.getElementById(destID);

	

for

(

var

 count=

0

; count < src.options.length; count++) {

		

if

(src.options[count].selected == 

true

) {
				

var

 option = src.options[count];

				

var

 newOption = 

document

.createElement(

"option"

);
				newOption.value = option.value;
				newOption.text = option.text;
				newOption.selected = 

true

;
				

try

 {
						 dest.add(newOption, 

null

); 

//Standard


						 src.remove(count, 

null

);
				 }

catch

(error) {
						 dest.add(newOption); 

// IE only


						 src.remove(count);
				 }
				count--;
		}
	}
}


Code language:

 

JavaScript

 

(

javascript

)
Just call the function with two arguments, first is the source listbox id and second is the destination listbox id.
listbox_moveacross(

'countryList'

, 

'selectedCountryList'

);


Code language:

 

JavaScript

 

(

javascript

)
Online Demo
Click here for the online demo.
Getting Values in Server side script
When you submit the form with Listbox, by default browser will submit only selected values from that selectbox. Thus if you want to submit values from right hand side select box, you first needs to select all those before form gets submitted. You can do this like below:
<script>


function

 

submit

() {
     listbox_selectall(

'righthand_side_listbox_id'

, 

true

);
     

return

 

true

;
}

<form onsubmit=

"return submit()"

>
...
<

/form>


Code language:

 

JavaScript

 

(

javascript

)
This would select all the options before form gets submitted. Now you can retrieve options in your server side script from request as request parameter.