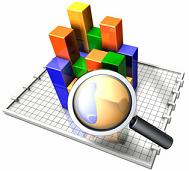 Website analyzing and optimizing has became one of the key task that a webmaster has to perform in order to make the website run efficiently. By analyzing your website you can identify the problems related to loading time, size, keyword effectiveness etc.
A lot of online website analyzing tools are available that can be used freely to analyze your website and which gives you an insight view of the problems and area of improvement. Let us take an example and analyze a website.
Selecting Scapegoat
Let us analyze the BBC website using online website analyzer tool websiteoptimization.com.
Analyze the website
Open websiteoptimization.com, it will ask for the Enter URL to diagnose. Enter any URL that you wants (in my case I am entering http://www.bbc.co.uk). Click on Submit Query button. It will ask for a CAPTCHA to filter spams. Enter the captcha details and hit Continue.
Diagnosis
That's it. The result will be shown where you can see different sections of report.
Global Statistics
Global Statistics are the figures that gives you details about the total HTTP request fired from the website (Total requests for images, css, javascript etc) and also total size of the webpage.
Object Size Totals
This section provides details about each type of object and its total size. i.e. the size of HTML, JavaScript, CSS, Images etc and total loading time.
Analysis and Recommendations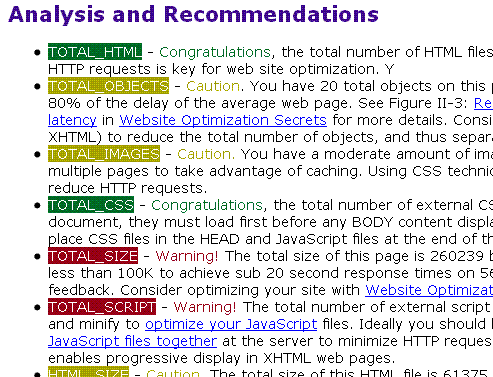 This is the section that one should look and understand. This section will describe each section of the webpage and recommend if the size of any section let say JavaScript or CSS is more than the normal size. You may want to read the tutorial to enable compression for javascript, css, html etc which will reduce the size significantly.
Other online website analyzer tools
Website Checker is one of the similar tool that can be used to analyze the website. Not only does it shows the total loading time of the website and individual objects like html, css, javascript etc, it also provide a keyword suggestion facilities which will be helpful for doing search engine optimization of the site.
Submitexpress also provides similar functionality of website analyzing. It will also suggest you whether you have used appropriate meta description or meta keywords in your webpage.