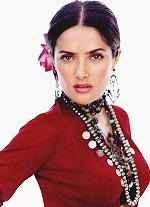 Just read this news on Techmeme.Holywood actress Salma Hayek's Apple MobileMe account has been hacked by someone earlier today and account details were posted on Anonymous imageboard 4chan.org. The Anonymous poster who started it all left the following bits of information for all to see and use to access Salma Hayek's MobileMe e-mail account.
Her email address is [email protected]
Go to me.com, forgot password, type [email protected]
Her birthday is Sept. 2
Answer to change password question is: frida 

I think this is a pure guess work and a bit common sense. The hacker din't knew the password before hacking the account and that's where 2 September and frida comes into picture. If you log to Apple account and select "Forgot Password", it takes you to a screen which ask Birthdate. Now Salma's Birthdate is an easy bit of information that anyone can get from internet (her wikipedia page may be). After entering her birtdate, the hacker was redirected to another screen that asked Security Question: "favorite character.". It would take anyone who knows Salma Hayek as an actress only a few guesses to arrive at "frida" and strike the pot of gold which is her Apple MobileMe e-mail account.
So what's there in her account? Well 4chan has released few screenshots but I think hackers are still digging into her account in search of any bit of information that they can get.