[ad name="AD_INBETWEEN_POST"] Adding Elements like textbox, button, radio button etc in a html form using JavaScript is very simple. JavaScript's
document
object has a method called
createElement()
which can be used to create html elements dynamically. We had used this function in our tutorial:
Dynamic combobox-listbox-drop-down using javascript
to add dynamic options to a combo box-listbox. Let us use this function to create textboxes, radio buttons, buttons etc dynamically and add them in our page.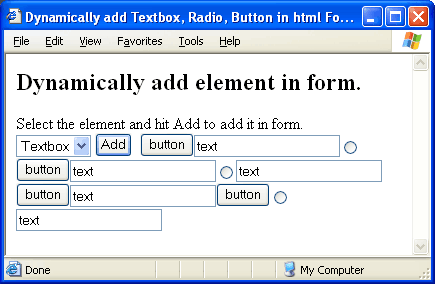 Following is the source code of our example.
<

HTML

>
<

HEAD

>
<

TITLE

>Dynamically add Textbox, Radio, Button in html Form using JavaScript</

TITLE

>
<

SCRIPT

 

language

=

"javascript"

>


function

 

add

(

type

) {

	

//Create an input type dynamically.


	

var

 element = 

document

.createElement(

"input"

);

	

//Assign different attributes to the element.


	element.setAttribute(

"type"

, type);
	element.setAttribute(

"value"

, type);
	element.setAttribute(

"name"

, type);


	

var

 foo = 

document

.getElementById(

"fooBar"

);

	

//Append the element in page (in span).


	foo.appendChild(element);

}
</

SCRIPT

>
</

HEAD

>
<

BODY

>
<

FORM

>
<

H2

>Dynamically add element in form.</

H2

>
Select the element and hit Add to add it in form.
<

BR

/>
<

SELECT

 

name

=

"element"

>
	<

OPTION

 

value

=

"button"

>Button</

OPTION

>
	<

OPTION

 

value

=

"text"

>Textbox</

OPTION

>
	<

OPTION

 

value

=

"radio"

>Radio</

OPTION

>
</

SELECT

>

<

INPUT

 

type

=

"button"

 

value

=

"Add"

 

onclick

=

"add(document.forms[0].element.value)"

/>

<

span

 

id

=

"fooBar"

>

&nbsp;

</

span

>

</

FORM

>
</

BODY

>
</

HTML

>


Code language:

 

HTML, XML

 

(

xml

)
Also note that we have used
setAttribute()
method to assign the attributes to our dynamically created element.
Demo
Any other way of adding elements dynamically in html page? Let me know. If you read this far, you should
follow me on twitter here.