Google Custom Search API are wonderful tools to create some awesome search engine like tools. Also if you want to add a search option to your website and customize the look and feel of your search results, Google Custom Search API serve best to you. I have created a Real Time Search engine (I call it real time as it search as you type). I am really impressed by the speed/response of Google Search API.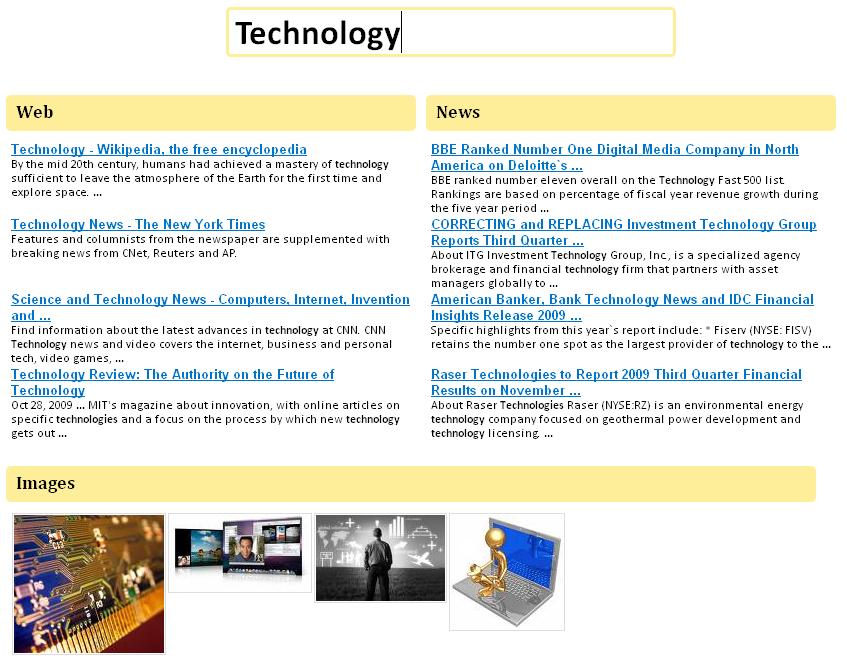 The Code
I will show the code for one of the search api that I implemented in demo page. Let us see how to implement Web Search API.
Step 1: Generate Google Search API Key and Include JavaScript
In order to use Google Search API, you have to first generate a Key for you. Go to following page and signup your self for the Key.
Sign up for Google API Key
Next step is to include the Google Search API javascript. Don't forget to mention your key in the below code.
<script src=

"http://www.google.com/jsapi?key=YOURKEY"

 type=

"text/javascript"

><

/script>
<script type="text/

javascript

">
	google.load('search', '1');
</script>


Code language:

 

JavaScript

 

(

javascript

)
Step 2: Add HTML Container for Web Search
We will create a textbox and a button that will take input for search. And a DIV that will be populated by results:
<

input

 

type

=

"text"

 

title

=

"Real Time Search"

 

name

=

"searchbox"

/>
<

input

 

type

=

"button"

 

id

=

"searchbtn"

 

value

=

"Search"

 

onclick

=

"search(searchbox.value)"

/>

<

div

 

class

=

"data"

 

id

=

"web-content"

></

div

>


Code language:

 

HTML, XML

 

(

xml

)
When user will write a query and push Search button, a request will be made to Google Search using Custom Search API and the results are fetched. These results are then copied into the DIV.
Step 3: JavaScript to call Google Search API
We will use following JavaScript to call the Google Search API and copy the results in our container DIV. The code in plain english is: 1. Create an object to connect Google Web search using class
google.search.WebSearch
. 2. Set a callback function that will get call once the results for the search are fetched. 3. Call the
execute()
method with search query as argument. 4. In callback function, iterate through the results and copy it to container DIV.
var

 webSearch;
webSearch = 

new

 google.search.WebSearch();
webSearch.setSearchCompleteCallback(

this

, webSearchComplete, [webSearch]);



function

 

webSearchComplete

 (

searcher, searchNum

) {
	

var

 contentDiv = 

document

.getElementById(

'web-content'

);
	contentDiv.innerHTML = 

''

;
    

var

 results = searcher.results;

    

var

 newResultsDiv = 

document

.createElement(

'div'

);
    newResultsDiv.id = 

'web-content'

;
    

for

 (

var

 i = 

0

; i < results.length; i++) {
      

var

 result = results[i];

	  

var

 resultHTML = 

'<div>'

;
      resultHTML += 

'<a href="'

 + result.unescapedUrl + 

'" target="_blank"><b>'

 +
                        result.titleNoFormatting + 

'</b></a><br/>'

 +
                        result.content +
                        

'<div/>'

;
      newResultsDiv.innerHTML += resultHTML;
    }
    contentDiv.appendChild(newResultsDiv);
}



function

 

search

(

query

) {
	webSearch.execute(query);
}


Code language:

 

JavaScript

 

(

javascript

)