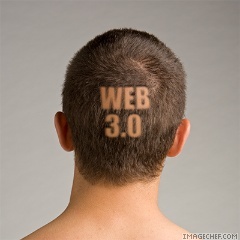 Web 2.0 – It was a huge step forward for the www, where we saw and continue to experience various ways of information sharing which in turn has resulted to a proliferation of content / data, be it user generated or not. This second generation of web has already changed the way a netizen browse the worldwideweb, compared to a stagnant first generation !
Twitter, Facebook, Linkedin, Orkut and numerous other services that is rocking the web, and leading the information bandwagon from front, are all kids of this concept. Today, the web is not confined to the desktops / workstations and you need not be glued to your monitor to be on track with your friends' updates, you can meet-up with your friends on the move via a 'TWEET'. Blogs, Microblogs, Social Networking – they all have just invaded the information highway.
Just when we were left thinking, whether we are making use of the complete potential of the worldwide network, here comes the concept of Web 3.0!
With the mushrooming of data, there is an obvious and definitive need for a more precise segregation and organization of content as there is an incredible amount of information lurking on the web, shouting for attention. Thanks to the search god – GOOGLE – for some innovative ways to bring the content to common user. Recently google exposed some semantic data in its search results in the form of some straight forward answers – refer to http://www.readwriteweb.com/archives/google_semantic_data.php. The evolution of this search giant can really be an inspiration after they introduced the new 'Search Options and Rich Snippets'. They are significantly making use of the structured data open standards like Micro Formats and RDF to power the rich snippet feature. As an result they are showing some meaningful results than just the preview text that used to be displayed earlier. Now the user can have the luxury of having more context driven results after his 'googling'.
The defining factor / strategy for the new web – WEB 3.0, would be the ability to create data that are 'machine readable'. In this way it would be possible to organize and comprehend the vast ocean of information into a more meaningful and usable one, thereby putting the user in the driver's seat. A very easy way to understand this concept would be to imagine how it feels, when you are able to find out the nearby theatre which shows your favorite movie during your leisure time. Awesome isn't it ? These are just some bi-products of a more semantic and structured web, and the real scope of this relatively nascent concept is really incredible !
This article was written by MysticPixels, Author of Web 3.0, CSS and other articles. You can read the original article at css3. We welcomes your tips and guest articles.
If you liked this article, please submit it to your favorite social media sites.